Specialty Flooring - GenieMat™ FIT all in one fitness floor

If you are looking to install a new floor in your fitness area, this is the one you need to have. The GenieMat™ FIT is an all-in-one fitness floor made from recycled rubber and is specifically engineered to reduce structure-borne sound and vibration transmission. This floor can be installed on concrete, a wood frame construction, or metal deck construction and will dramatically reduce the transmission of sound and vibration in to adjacent spaces otherwise passed through the floor. It is an ideal product for free weight areas, under cardio equipment and in a fitness studio.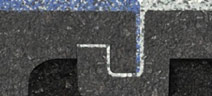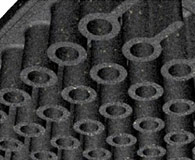 ⬅ As shown in this image, the GENIEMAT FIT has a seamless interlocking fit installed in compression. This maintains the floor's aesthetic appeal by eliminating any seam separation over the lifespan of the floor.
The GENIEMAT FIT is constructed of engineered cylindrical mounts to help reduce vibrations and has a low dynamic stiffness to improve the low frequency response. Both of these features helps reduce the transmission of sound. There are 3 different GENIEMAT FIT products available depending upon the application requirements.
GENIEMAT™ FIT08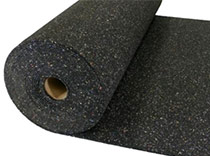 This is a rollout and glue down 5/16" thick resilient floor covering made from recycled rubber content and colored EPDM granules that is perfect for those facilities that are looking for a thin dense superior impact shock, vibration, and noise control product. Applications include:
Entryways/Corridors
Group Fitness Areas
Locker Rooms
Spinning Studios
GENIEMAT™ FIT-30
A lightweight resilient 23 ¾"x23 ¾" floor interlocking tile system made from up to 93% recycled rubber content and comprised of resilient floor covering and interdependent air-pocket impact pedestals on the underside, used when superior impact shock, vibration, and noise control is required. Features and Benefits include:
Raised pedestal design for superior cushioning effect
Omni-directional interlocking design for secure hold and simple installation
High-compression wear layer for superior abrasion and slip resistance and color-retention
Maintenance-free surface leads to lower life expectancy costs
Accessories include profiled edging, inside and outside corner pieces, and ADA-compliant transitions
Will not harden or become brittle with age
Mold, bacteria, fungi, and water resistant
Available in a variety of colors and custom color blends
GENIEMAT™ FIT-70
A heavy duty resilient 224"x24" floor interlocking tile system made from up to 93% recycled rubber content and comprised of resilient floor covering and interdependent hollow-core impact pedestals on the underside, used when superior impact shock, vibration, and noise control is required. Features and Benefits include:
Raised pedestal design for superior cushioning effect
Omni-directional interlocking design for secure hold and simple installation
High-compression wear layer for superior abrasion and slip resistance and color-retention
Maintenance-free surface leads to lower life expectancy costs
Accessories include profiled edging, inside and outside corner pieces, and ADA-compliant transitions
Will not harden or become brittle with age
Mold, bacteria, fungi, and water resistant
Performance warranty for critical fall heights up to 5 ft
"In-Play" polymer technology for superior resistance from color fade caused by UV exposure texture
Available in a variety of colors and custom color blends